Jesus said, "I have come as a light into the world, that whoever believes in Me should not abide in darkness" (John 12:46). Will you help Liberty Relief International send the Light of God's Word to brothers and sisters living in the harsh shadow of Islamic oppression today?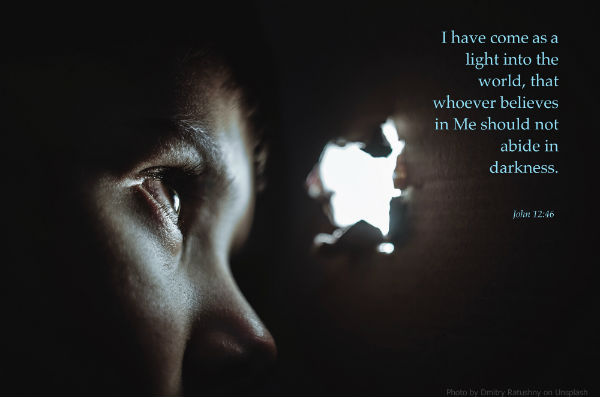 In Iran, it is illegal to convert from Islam to Christianity. The secret police often infiltrate underground Christian communities by pretending to be new converts, assimilating into house churches and then arresting entire congregations. That's what happened to Esther* and her family.
Please help Liberty Relief International reach our goal to send 2500 Bibles to severely persecuted Christians in 50 of the harshest countries of the world this month. For just five dollars, you can place a copy of God's Word into the hands of a persecuted Christian or new believer living in the harsh shadow of Islamic oppression.

When Esther and her brother heard the gospel and decided to follow Jesus, they had to keep their new faith secret, meeting quietly in home churches so as not to be arrested.
In time, Esther married a fellow believer and they had a beautiful little boy together. Then one day, their secret home church was raided and all involved were arrested and interrogated.
The police slid a document across the table and told Esther and her husband to fill out - indicating their official denial of their Christian faith and return to Islam.
"All you have to do is sign that document and things will go back to the way they were for you," the police said. It was a choice that would change their lives forever.
The couple was granted some time to consider their decision. During that time, Esther purchased one-way tickets for her family to escape from Iran so they could continue growing in their faith in Jesus.
The young family struggles to survive as refugees in a new land now, but when asked if it was all worth it to follow Jesus, Esther quickly responded, "Yes...I am a Christian and we know there is persecution for us."
Please remember to pray for Esther and her family, and millions of others who are facing harsh persecution for their Christian faith in the Middle East and around the world. They are people who are faced with great suffering and loss for their faith - but when they are given a way out, they still choose Jesus.
And as you make plans to celebrate the Resurrection of our Lord this month, please help send His Word as a gift to new believers suffering persecution by making your tax-deductible gift now.
Your gift today of 25, 50, 100 dollars or more can provide the Light of God's Word and critically needed discipleship materials to our brothers and sisters living in such extreme persecution around the world.

Thank you, in advance, for being a lifeline of compassion and provision to those in need.
God bless you,

Mat Staver
President
P.S. We have a goal to send 2500 Bibles for Easter this month. Please help us reach that goal with your gift today.
*Names have been changed.