What happens when you send Bibles to oppressed, persecuted regions of the world? "The people who sat in darkness have seen a great light, and upon those who sat in the region and shadow of death light has dawned" (Matthew 4:16).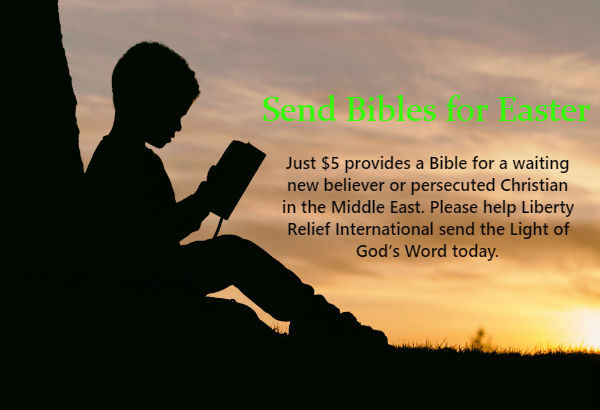 As you know, Liberty Relief International is working with Christ-centered partners who can provide Bibles, aid and comfort to the persecuted Church and to others suffering under oppression and brutality in the Middle East, Africa, and elsewhere.
Our partners on the ground in these locations not only provide Bibles to those who ask, but they also use the Bibles as tools to reach the unreached.

Abdul's* story shows the impact sharing these Bibles can have on a village in the Arabian Peninsula. After placing a Bible on the doorstep of every home in a small village where there was no Christian witness, he prayed that God would keep His promise from Isaiah 55:11, "My word...will not return to Me empty, but will accomplish what I desire and achieve the purpose for which I sent it."
Returning to the same village after four months of prayer, Abdul entered a cafe where many locals gather. Because he's a stranger, some Muslim men ask where he's from and why he's in the area. But soon he's asked if he's a Muslim. And stepping out in faith, Abdul responded, "No, I'm a Christian." And with great excitement, the men share they'd found Bibles on their doorsteps a few months prior, and they'd been reading them ever since."But many parts are difficult," they say. "Will you help us understand?"Abdul responded with a grin, "Of course! If you get your Bibles, we can study them together." For the next hour, Abdul and the Muslim men pored over the Scriptures together

— studying the Gospel of John. And Abdul shared about the death and Resurrection of Jesus.
This is just one of many ways the Bibles you send can be used to reach Muslims for Jesus. Even though new believers face fierce persecution for leaving Islam, having the Word of God to study builds their faith and their witness.




Your tax-deductible gift of 25, 50, 100 dollars or more today can provide the Light of God's Word and critically needed discipleship materials to our brothers and sisters living in extreme persecution around the world.

As you celebrate the Resurrection of our Lord this month, please help send His Word as a gift to new believers suffering persecution by making your tax-deductible gift now.

Thank you, in advance, for being a lifeline of compassion and provision to those in need.
God bless you,

Mat

President
P.S. We have a goal to send 2,500 Bibles for Easter this month. Please help us reach that goal with your gift today.

*Name has been changed