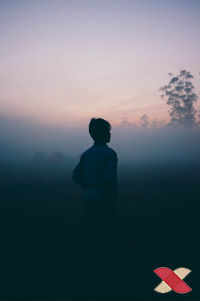 As we honor the 75th anniversary of D-Day and the soldiers who paid such a tremendous price to end that war, let us keep in mind the war on Christians taking place around the world today. Recent reports call the increased attacks on Christians GENOCIDE. God calls you and me to be a voice for the voiceless and to stand for those who are weak. Will you join me today?
-Mat
You make a life-changing difference when you stand with Liberty Relief International on behalf of our hurting brethren throughout the Middle East, northern Africa, Asia and the world.
Yesterday, I wrote to tell you the story of Aisha and her family who live in Kano, one of the Sharia-governed states in northern Nigeria—an area also impacted by deadly Fulani militant violence.
Aisha suffered a brutal gang-rape after her husband, assumed by Fulani militants to be a pastor, was abducted from their home in the night.
Thanks to Christ-centered partners serving persecuted believers in the area, Aisha received the assistance and Biblical counsel and prayer she needed to overcome her pain. Having found the peace of forgiveness, she now helps other women who have suffered similar attacks.
Such attacks happen with chilling frequency in Nigeria.

Your generous gift of support helps Liberty Relief International provide for immediate humanitarian needs as well as...
Emergency food and water, safe houses, trauma counseling, literacy training, job training

Restoration assistance to rebuild churches and homes

Bibles, Bible study materials, and discipleship training
Will you help care for fellow believers who are being targeted for their faith today? Your tax-deductible gift of 50, 100, 500 dollars or more will enable us to send urgently needed aid to our partners in the field who are working with Christians most at risk from violence, torture, false imprisonment, kidnapping, rape, or even death.

Our prayers and our practical help are a lifeline for our persecuted family. Thank you for standing with LRI to pray for and care for our hurting brethren throughout the Middle East, northern Africa, Asia and the world.
God bless you,

Mat Staver
Chairman


PS: You can help LRI minister to the urgent needs of persecuted Christians and others in unbelievably desperate situations with your generous gift today.