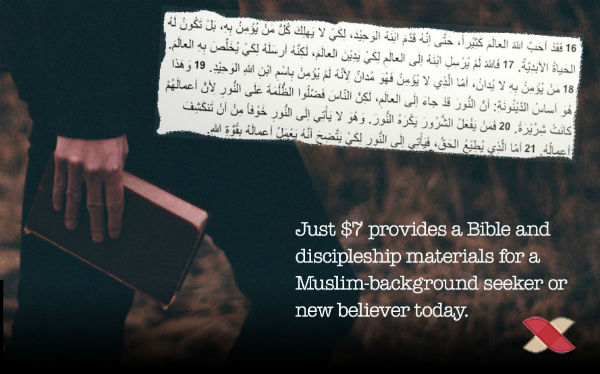 Adel was arrested at a secret Christian worship gathering and spent 40-days in prison. After his release, Adel noticed that he was being followed by Mohammad, one of the guards he encountered in prison.
When Mohammad approached Adel and asked, "Why do you think I keep having dreams about Jesus?" Adel was shocked and wondered if it was a trick that could lead to his re-arrest.
But Mohammad quickly explained that he used to listen in the shadows as Adel would recite Psalms from memory each day in his cell. The Word of God had pierced Mohammad's heart and Jesus began appearing to him in his dreams.
It is illegal to convert to Christianity in most Muslim-dominated countries. Those who do so risk arrest, beatings or worse. They gather in secret to worship, and what Bibles they have they hide and cherish.
Your gift today can place the Word of God and discipleship materials into the hands of waiting seekers and believers. Please give today . . .

*Adel's story can be read in full in the book, Dreams and Visions: Is Jesus Awakening the Muslim World? by pastor and missionary Tom Doyle. You will be encouraged by the stories he shares of people he has personally encountered who have come to faith in Christ through dreams and visions.

* Representative photos/names for security reasons.